It's sooo cold in the flat today so I thought I'd clean up and keep myself busy to try and warm up. I did my room and then started to cut a few of the items that I have had in a pile waiting to shorten etc and put them on to check they fitted right etc, this emerged into me playing dress up in the hallway with my closet! I started pulling out things I haven't worn for ages and trying to make outfits, the below one was first and I loved it so much that I had to blog about it didn't I?
So here are a few of my outfits that I put together that hopefully will force me to wear the things I have that haven't seen the light of day for a long time!
Enjoy!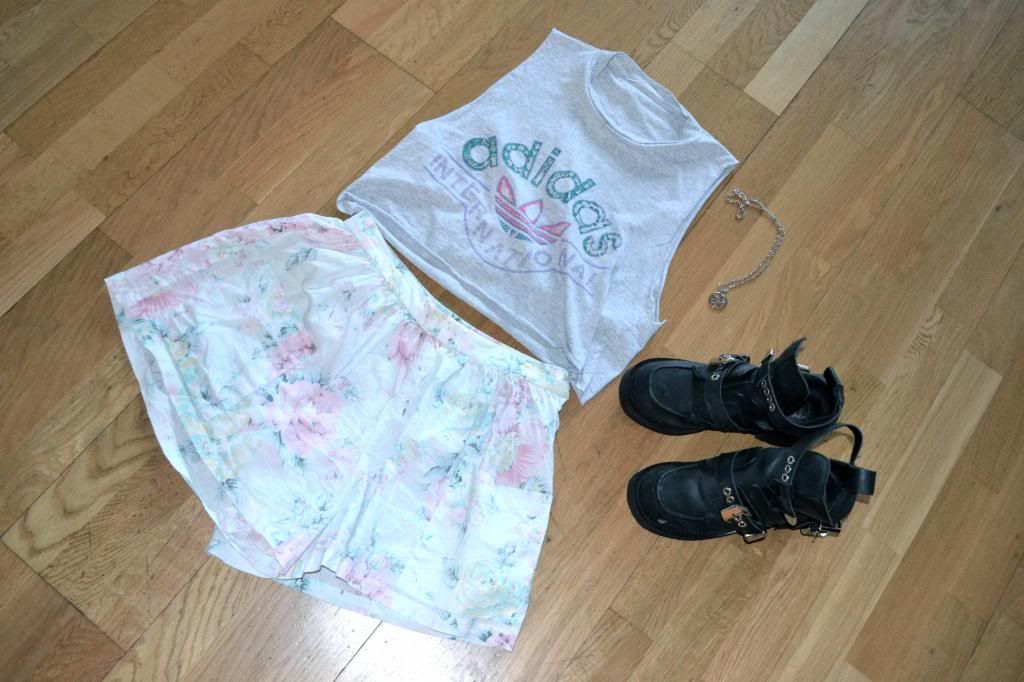 Outfit 1
Top - Vintage, Shorts - Old Topshop, Boots - JC, Necklace - ebay
I looooooove this outfit, on it looks so much better and so cute, definitley better for summer but I would probably wear it with black tights and maybe my topshop sheer top underneath. I love these pastel colours, such a pretty combination.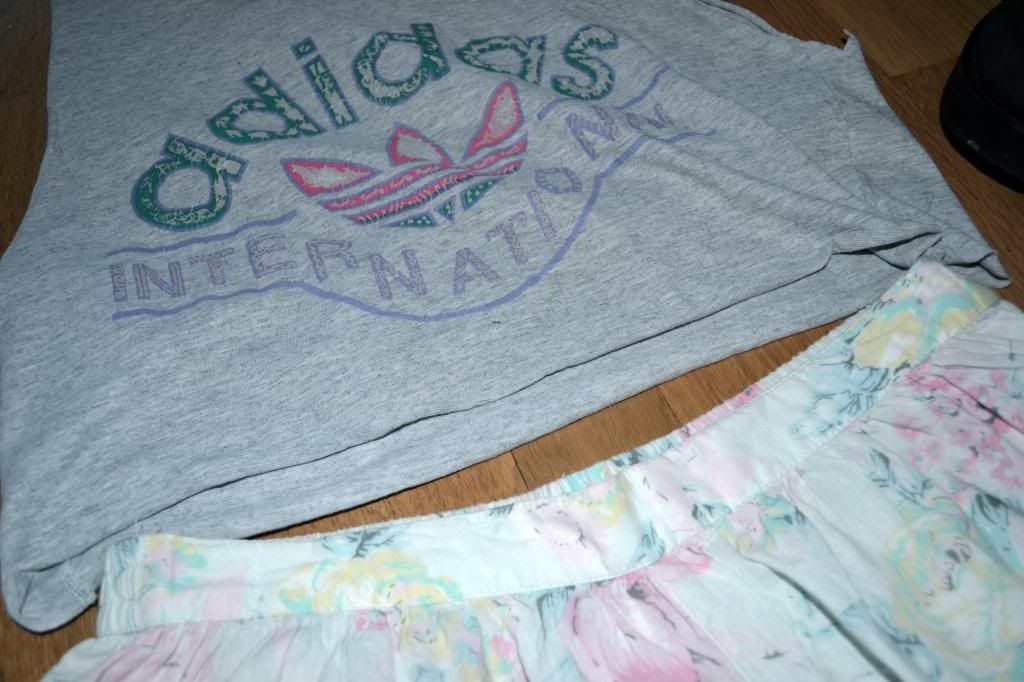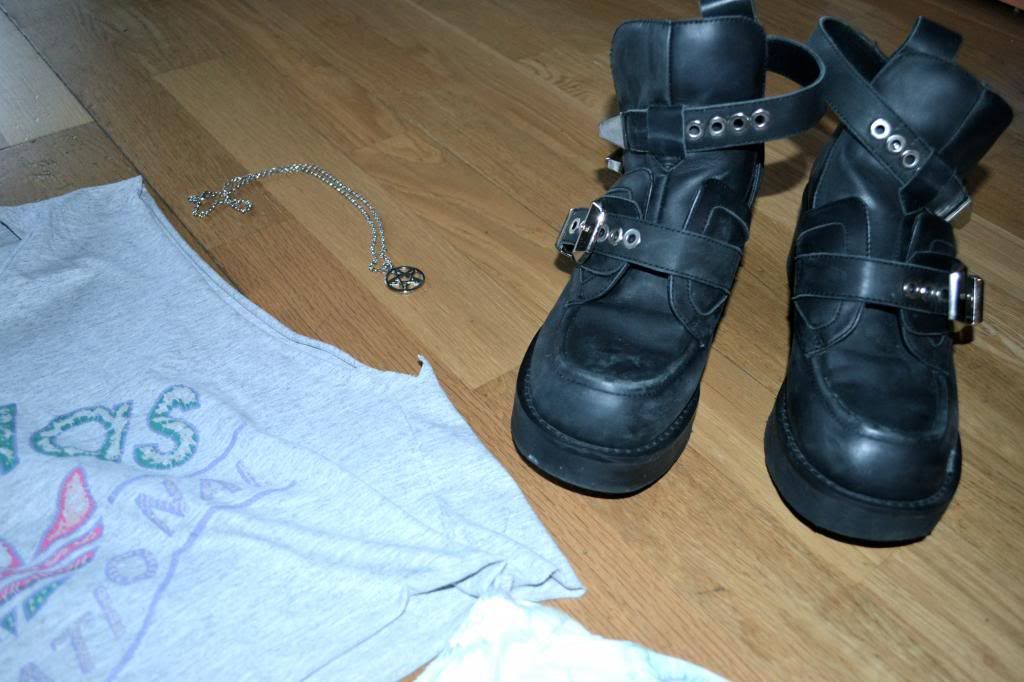 Outfit 2
Top - Jumble Sale, Skirt - Under £5 shop in Manc, Jacket -Vintage, Boots - French Flea Market, Necklace - ebay
This skirt was a midi length but I have had it for ages so today I cut it into a shorter skirt, just makes it more wearable. I also cut this polo neck into a crop top, it has really cute holes all down the arm. This outfit is definitely more winter and worn with black tights would be pretty warm......ish. I think just changing things like the skirt and top makes you wanna wear it os much more, hate the idea of pretty things being unworn just because they are the wrong length etc.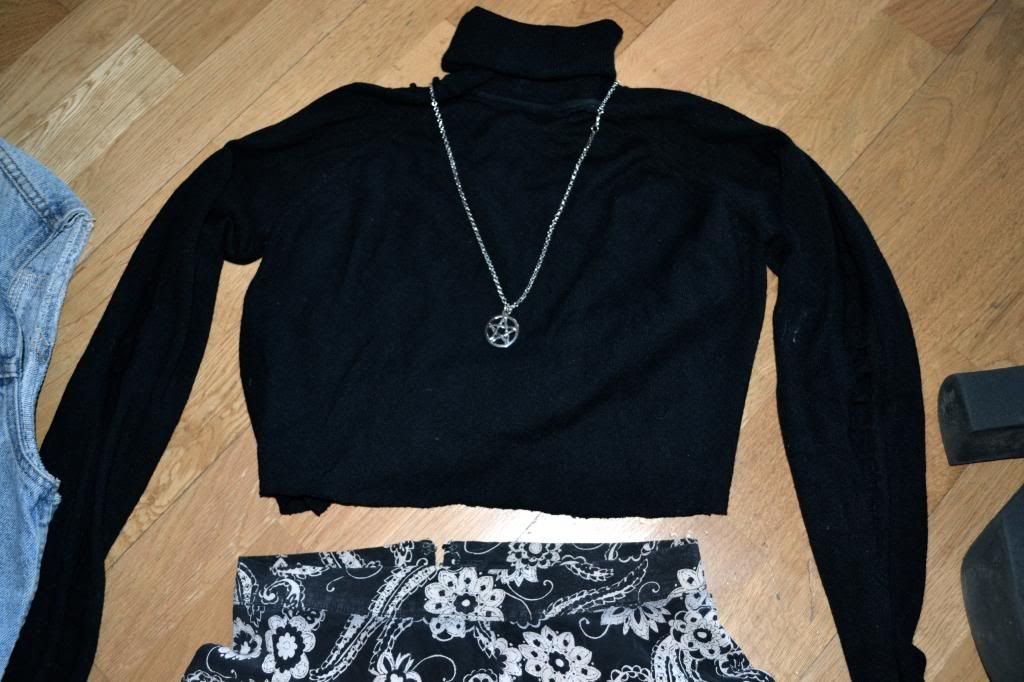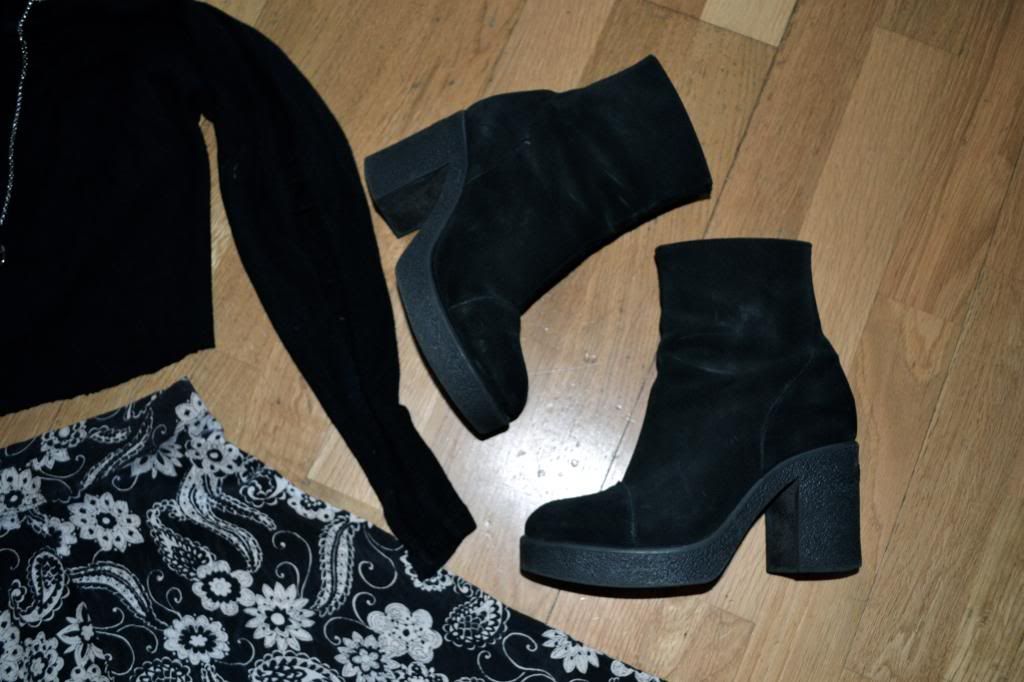 Outfit 3
Top - Vintage, Trousers - Vintage, Pumps - Primark, Choker - ebay

I've been so inspired lately by all the girls in LA blogs, they have such a laid back and grungy feel to their style. I have had this pair of trousers in my wardrobe for ages but never known what to put with it. I love the look of not high waisted trousers but not crazy ass showing low, but this top with these trousers works so well. I would wear it with pumps as I don't think boots would work ( I know they would but I'd feel better in pumps!) The choker adds a bit of edge, again better for summer days but I will wear it with a cropped cardigan and denim jacket.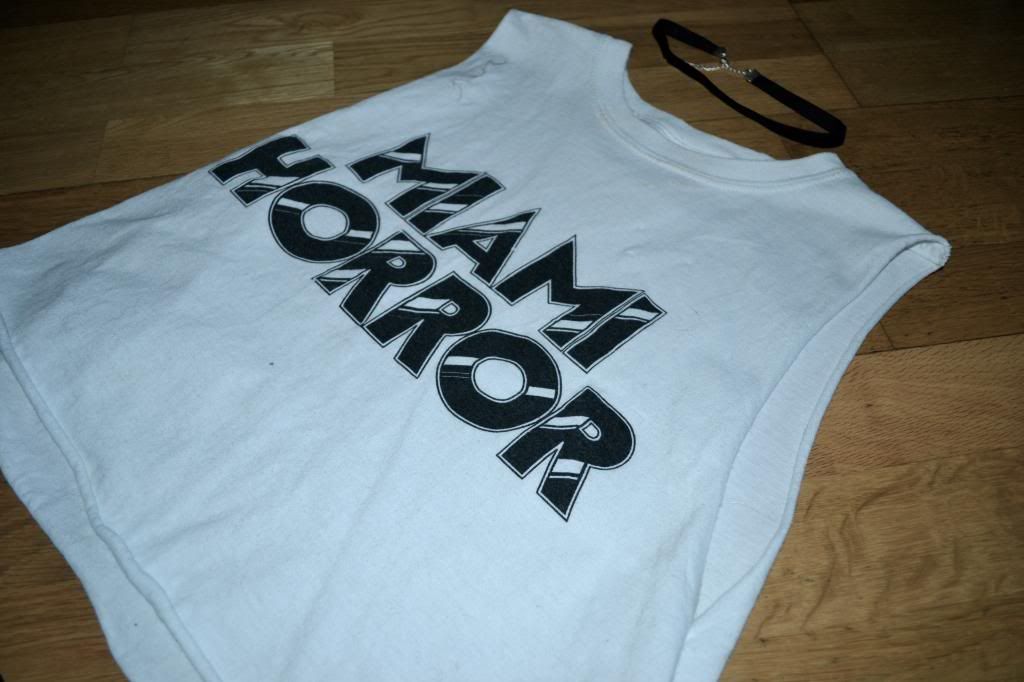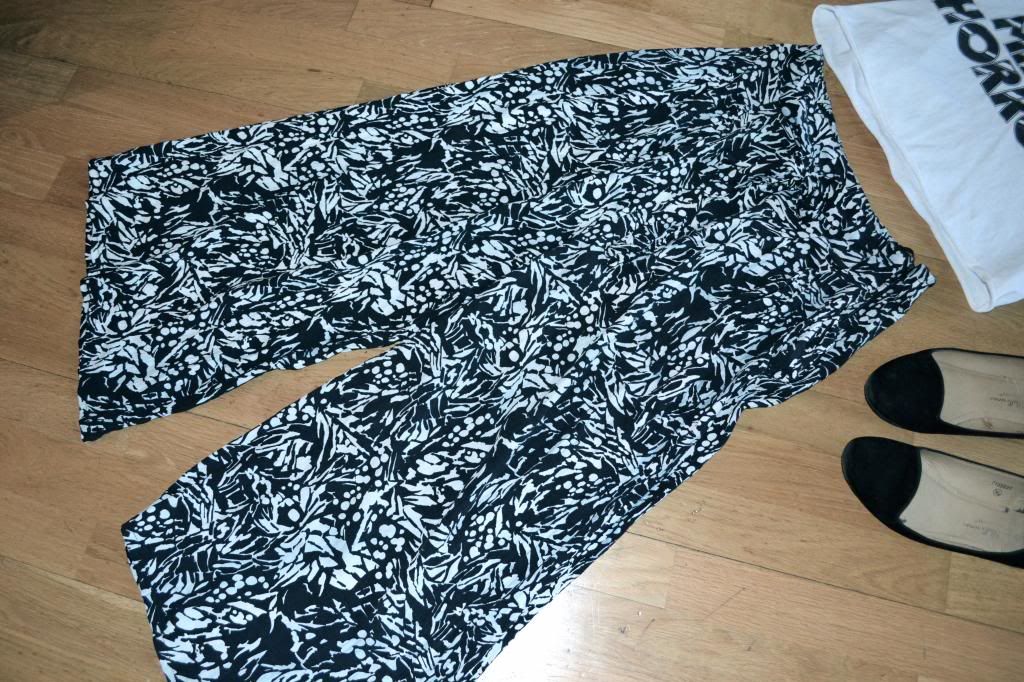 Outfit 4
Top - French flea market, Jeans - Vintage, Boots - French flea market (think it was actually a swiss one...) Belt - Vintage, necklaces - ebay
I haven't worn either of these items yet, they are sitting loney in my wardobe. This top I got last summer and I really love it but it's a funny shape and length but I was gonna just chop the bottom off but figured I'd try it with these jeans as I know these are super high waist ones. It works really well and with the sleeves rolled up, the top looks cute too. These boots are sooo perfect and with the belt and necklaces, makes a fun outfit.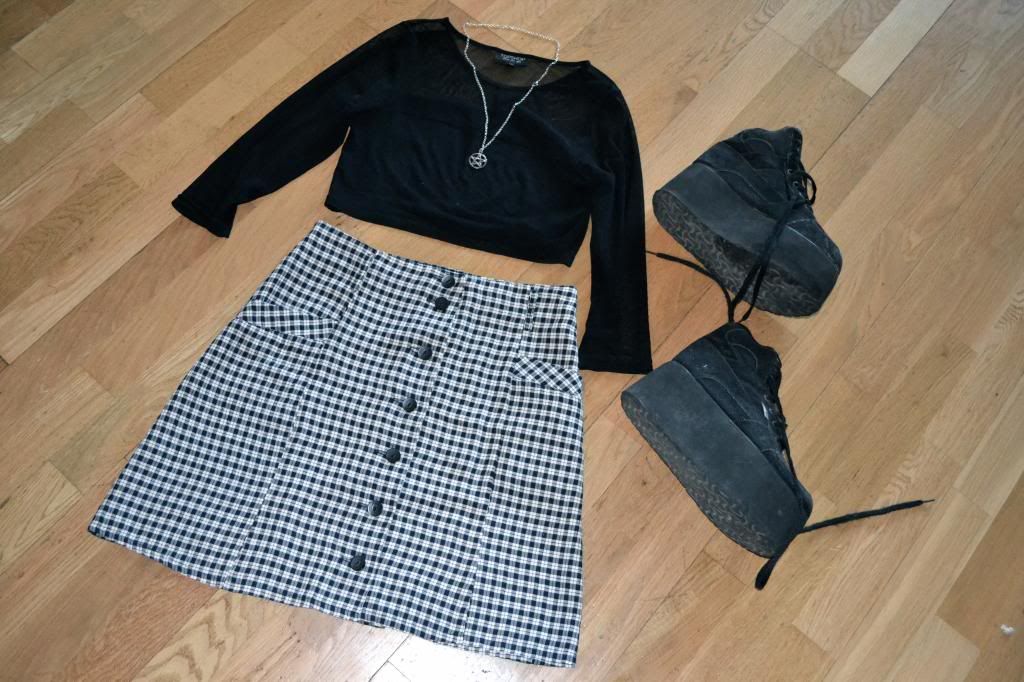 Outfit 5
Top - Topshop, Skirt - Vintage, Boots - Vintage Buffalos, Necklace - ebay
Again, never worn this skirt, I love the 90's shape and pattern, it's very clueless I suppose. i remember seeing this same style of skirt in the Agness Deyn for Doc Marten collection so I knew I'd have to dig it out some time to wear! Put with my Topshop sheer top and buffalo's it definitely screams girl power which is obviously a plus!